69RPM Happy Hour goes down every 4th Friday at The Knockout with Joe Bank$ and me. Our guest this month is the one and only, all-the-way-analog DJ Rob Metal. Come get some!

My friend Paul is turning 33-1/3 years old and we're celebrating this Friday with 33-1/3 RPM vinyl! I'll be DJing along with E Da Boss, Eons One, SergDun and others. It's open to the public at The Golden Bull.

Check us out on The Knockout's new website.
This month's guest DJ is SergDun of Stay Hatin.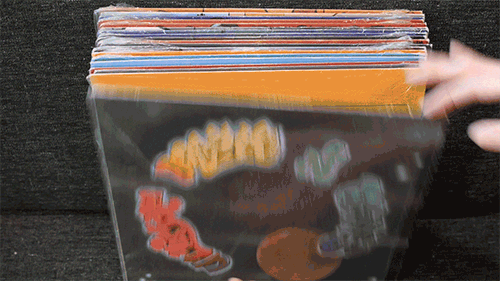 (Animated image courtesy of Cuepoint)
Check out Ultimate Breaks & Beats: An Oral History on Cuepoint, published March 13th.
I had the pleasure of meeting Medium Editor-In-Chief and co-founder of The Source, Jonathan Shecter, and providing my Ultimate Breaks & Beats vinyl collection (with the shrinkwrap still on!) and turntable for the visuals and audio. That's my hand flipping records.