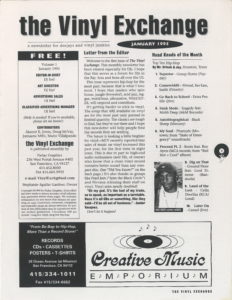 I've been uploading all the issues of the Vinyl Exchange to the site (95-97). They have been made into word searchable PDF's. I might also merge them all into one big file so people can search every issue at once but for now they are as individual issues. There is a separate page (VE link at the top navigation bar) but I'm making this post for fools are not good at the internets.
Stef was doing Vinyl Exchange Radio as a series of weekly mixes. It was an idea she had to practice mixing and play records she liked. There is a variety of stuff ranging from 30 to 45 minutes and she did this over the course of 3 years posting on VEradio.com. I'll be uploading these in blocks of 10 at a time. There are about 8 on her mixcloud account but I'm going to post all 85 episodes over the course of time. They will also be linked on her mixes page so you can jump right there if you miss a post. Also shouts to This Is For The Hustlers for helping me get all of these together.
01 – Ve_Radio_04.03.05
02 – Ve_Radio_04.10.05
03 – Ve_Radio_04.17.05
04 – Ve_Radio_04.24.05
05 – Ve_Radio_05.01.05
06 – Ve_Radio_05.08.05
07 – Ve_Radio_05.15.05
08 – Ve_Radio_05.22.05
09 – Ve_Radio_05.29.05
10 – Ve_Radio_06.05.05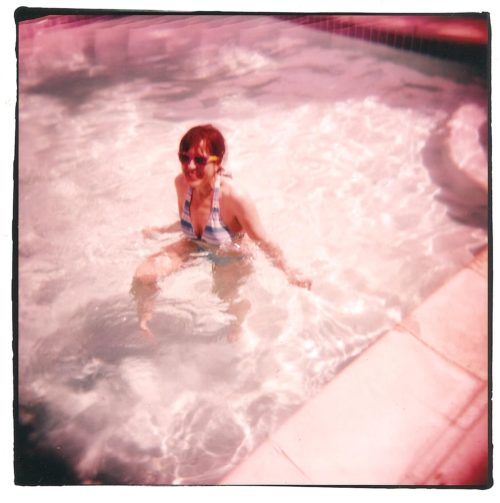 Stef and I met through a mutual love for music in Cincinnati of all places. We were both there for Scribble Jam in 2002, an underground hiphop festival with a bunch of rappers no one cares about. We had messaged each other online about music since we were both on the Anticon message board. I had visited the Vinyl Exchange site but wasn't super active on it since I wasn't European. She was flying in with a guy I only knew from the rap internet but I was spliting a hotel room with him and some other dudes from the internet so since they were on the same flight the guy with a car and I picked them both up at the airport. This was the first time we met in person and initially neither of us expected to be anything more than friends but over those four days we were inseparable. She asked me if I would be her "Scribble Jam Boyfriend" and I said sure. When it ended she returned to San Francisco and I to Phoenix. She sent me a care package a week later with this printed out chat she had with the guy who I split a hotel room with.
6 weeks later we moved in together, it was her idea. At first my plan was to move to Oakland and live with some roommates. The day after I told her she called me and suggested I just live with her rather than try to find a place and a job at the same time. I told her she was taking a chance on this stubborn kid but she said had a good feeling about it. I had never been steamrolled with love like this. Prior to meeting Stef I had no intention of ever moving to the bay area. Once she entered the picture we decided that whatever it took to make this thing work we would do. She considered moving to Phoenix but I told her I would rather leave for the bay. We both knew it was crazy but decided the risk was worth it.
I came to San Francisco with no job, barely any money or any direction but she put her faith in me like no one I'd ever met. I absolutely adored her for it. Falling in love with her is the easiest thing I have ever had to do in my life, it was effortless from the first day I met her. 6 years later we decided to pull the trigger and get married. We didn't announce it or anything. We thought we would just go get married and get some tacos afterwards. It was Cesar Chavez day and I had the day off anyways. I actually screwed up by only scheduling the appointment for the license. We had to come back the next Monday for the ceremony. This time we actually got dressed up and grabbed a bouquet from the across the street. Then came the hard part, deciding to merge our record collections. Hers easily dwarfed mine but that step takes real commitment and trust.
Stef was an incredible person who was always willing to support people in anyway she could. We've spent so many late nights out watching music. It didn't matter if there were 10 people there or 1000. She actually liked when no one was there because she hated when it was too crowded. I would meet so many people and just be in awe of her reach and everyone she knew. When I first moved to San Francisco we would go to Sutter and Polk to see Shortkut play in a back room with free quesadillas, I was shocked that things like this just happened. Sundays at 26mix watching Live Human improv sessions blew me away. She introduced me to countless artists and albums. When I first moved in with her I would spend the morning after she went to work pulling records from her collection and exploring music I never got the chance to own. I learned so much from her about music, I didn't always like it but I would listen because her knowledge was unbelievable. All her pursuits were impressive from making mixes, creating the Vinyl Exchange, starting her own graphic design company, launching an EPK company, or throwing parties. Her work inspired me to chase any idea I had from writing, releasing mixtapes, or doing a stupid rap podcast knowing that I had the full support of this legendary woman pushing me every step of the way. In a world that I always felt was trying to stop me from running full force towards my goals she was the inspiration that pushed me past all those limitations.
As much as I learned about music I learned more than anything about what it was like to truly love someone. I was never an emotional person who was open with their feelings. She could pull feelings out of me and softened some of those edges. She taught me about honesty and compassion at a level I never knew. I grew up constantly arguing but with Stef there was none of that. If there was an issue we just talked about it and agreed to stop whatever behavior was bothering the other. I usually was the one who had to stop but even then it wasn't an issue. Her idea was why be in a relationship with someone you have to fight with. If you love the person then be in love because bitterness and anger are not worth it. It was easily the most supportive relationship I had ever known and it went both ways. It was a relationship where neither of us felt we had to compromise who we were for each other. Stef embraced me as I was and I embraced her. When I looked at other relationships I would wonder how we got so lucky. Stef was my best friend and biggest cheerleader. I do not know many other people whose wives would happily tell their friends a story about their husband throwing a trash can at a music festival. That's how we were though, we shared so many interests and that's why we did so many things together. I didn't understand the concept of begrudgery loving your spouse in some kind of bullshit ball and chain aspect because we never looked at our relationship that way. We were both 100% committed to the idea of us. She took a chance on me in the beginning so when she wanted to leave her job to focus on building her own freelance business it was not even a question for me. She supported me in every way because that was her nature. The very least I could do was try to repay that with fully supporting any idea she had.
I never thought my time with Stef would end. She was forever youthful in her demeanor and passion for life. For the rest of my life I will treasure these past 15 years and all the memories she gave me. The way she would hold her chest to pause the laughter. She never let me leave the house without a kiss. Running up to hug me everyday that I got home from work. She was the only person I could stand to call me "Sergie." That smile and all the cheerfulness it exuded. When she would clap her hands and say "whatcha get, watcha get" anytime I came home from a record store. She would get super close to my face to tell me she was jealous of my eyelashes. The way she would roll her fingers through mine when we watched a movie. I'm not sure how to live my life without her in this world but I try to find a little bit of comfort in all those moments we made each other smile. I know it pained her to see anyone in pain so I will try my hardest to continue this life she gave me with everything she taught me about love, humility, compassion, and courage. Not everyone is lucky enough to fall in love with a goddamn legend.
DJ STEF FOREVER.

At DJ Franchise's Generations party, four DJs each play a set from a different decade. My friend Matthew Africa loved playing this party. I'm honored to be on the lineup for the next one.
Read more »